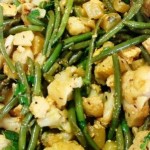 Cauliflower and Potatoes Cooked with Fenugreek and Fennel Seeds (Alloo Gobi) is from "World of the East Vegetarian Cooking" by
Madhur Jaffrey
. I've had this cookbook at least 20 years and it shows my love with its pages coming out and cooking stains. I've lovingly tried to put all the loose pages in order whenever they fall out. The recipes in it have always worked out well and I trust the book like a classic cooking bible for Asian and middle-eastern vegetarian cooking. I admit most of the recipes I've tried are Indian, but would trust the ones from other countries.
I've made this Alloo Gobi recipe for a friend of my husband's who loves the dish for a cooking class and for my family.
"This North Indian dish, supplemented with stuffed Parathas and Sour Lime Pickle, is put into small, brass "tiffin-carriers" and taken as lunch by thousands of school children and office workers. Rolled in the same parathas, it may be taken on picnics or long car journeys.
(serves 6)
2 lbs cauliflower (1 smallish head)
2 medium-sized boiling potatoes (about ¾ pound)
6 tblsps vegetable oil
¼ tsp whole fenugreek seeds
1 tsp whole cumin seeds
1 to 2 whole dried hot red peppers
¾ tsp ground turmeric
1 tsp ground coriander seeds
1 to 1 ¼ tsp salt
1/8 tsp freshly ground black pepper
1 tsp garam masala
Discard leaves and coarse stem of cauliflower. Break head into 2-inch long flowerets. Now cut each floweret lengthwise into very slim flowerets, with the heads never wider than ½ inch. Soak in cold water for half an hour.
Peel the potatoes. Cut them into dice, about ½ x ½ x 1/3 inch. Soak in bowl of cold water for half an hour.
Drain cauliflower and potatoes and dry them in a dish towel. Heat oil in a large 12 – to – 14- inch skillet over high heat. When the oil is smoking, scatter in the fenugreek seeds, the fennel seeds, the cumin seeds, and the red peppers. Stir once and quickly add the cauliflower and the potatoes. Stir again and turn the heat to medium. Sprinkle the turmeric, coriander, salt, and pepper over the vegetables and sauté them for about 8 to 10 minutes. Now add ¼ cup water and cover immediately. Turn heat to very low and steam vegetables gently about 7 to 10 minutes or until vegetables are tender. Sprinkle the garam masala over the vegetables, stir once, and serve.
My variations: add sauteed tofu and other vegetables. I made it recently with the addition of tofu and green beans that I had left-over.

I like it with a side of chappati (but a store-bought wheat tortilla would do), along with plain yogurt and Indian pickle. My son loves it as an Indian burrito, wrapped in a wheat tortilla with yogurt.