How to Make Vegetarian Indian Food/Recipes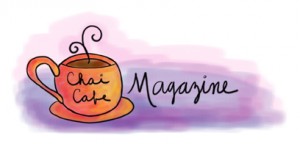 Vegetarian Indian food is my favorite. Recently on the Dr. Oz show, it was stated that having Indian food even once a week can improve memory and help prevent Alzheimer's. Wow, that is amazing, although I knew that turmeric has been known to help prevent the disease, which is not very common in India.
Making it is an art form that I enjoy, though it can be intimidating to some. This is my take on a simple approach: Making vegetarian Indian food.
Chai (from scratch)
cardamom powder
ginger
cinnamon
cloves
vanilla (optional
fennel (optional)
black pepper (optional)
black tea
milk (regular or soy)
honey or other sweetner
Heat the amount of water needed for the # of cups desired. Add milk (about 1 cup to 3-4 cups water). The amount of milk can be varied for the level of creaminess desired. Add about a 1/4 tsp of the spices to about 2 cups of liquid – this can be varied to taste. The black pepper can be less. Use fresh ginger when available – grate in. Add black tea leaves or bags of tea (about 1tsp of tea for about 2 cups) and sweetener. You can also premix the spices and have them conveniently ready when needed, to add to regular or decaf tea. Enjoy!

Red Lentil Dal
Rice and Vegetables with Saag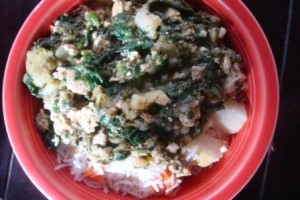 Baigan Bhartha
Subscribe to Chai Cafe Magazine by Email