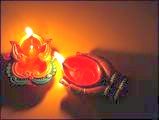 The South Asian Festival of lights, "Diwali," is celebrated at this time. It is one of the biggest celebrations in India and is seen as the beginning of the new calendar or financial year in some parts. Diwali is traditionally celebrated for five days with each day having a specific myth and belief.
Diwali is also a fun holiday for all ages. Houses are decorated with tiny lights inside and out. Children and adults enjoy presents, fireworks and great food, particularly delicious sweets.
An issue that South Asians growing up in the US grapple with is the coordination of holidays from their heritage and of their adopted country.
At this time, Thanksgiving is around the corner, just a week away, as is Diwali (I admit I don't know the exact date). I know that Diwali is around Halloween, and formal celebrations normally take place sometime in November. I will look out for a Diwali event to take my family to. In the past, I have managed to make some sweets and some prayers with my family, who have sometimes looked at me with some awkwardness.
I am starting to determine what vegetarian Thanksgiving items I will make, and that my family will help me with. Once I have the recipes located, I will then go to the grocery store and hopefully get everything I need by this weekend, to avoid the last minute chaos at the stores.
I like to make pies from scratch, which my son enjoys helping with. When I was expecting my daughter two years ago, we used extra crust to decorate the pies with an "M" for "Maya" on them. It is gratifying to have her with us and be able to actually eat what we make this time.
This year, we are planning on a quiet celebration. We are not going on a trip and will celebrate at home just with our immediate family. My relaxing fantasy is that I am scrap-booking while my husband watches football, now with my son. Of course that leaves out my toddler, who will of course probably not allow such a relaxing occasion.
While trying to manage her, I hope I am able to find some peaceful moments, in-between the cooking, cleaning, and getting ready for the mother of all holidays here, Christmas. Not being able to call myself Christian, I still love the holiday and will probably shed some tears again while listening to Bing Crosby singing about a "White Christmas," while very likely there are snowflakes falling here in Denver.
I've lately thought of Christmas as a beloved bully when going to stores in September and seeing Christmas items on one side, and Halloween on the other. I thought that poor Halloween didn't even have a chance! Forget about Thanksgiving, which is sort of just the "intro" to Christmas.
Since I have a craft fair to prepare for in early December, Christmas will likely arrive earlier than normal in my home as well. I recall that last year, I ended up trying to get ready for Christmas after the show, which seemed like hardly any time to celebrate such a beautiful holiday.
As a South Asian, I don't feel guilty for feeling emotional attachments to Western holidays. I know that this is a consequence of living here in the US. I'm certain that if I was living in India, I would feel the same for holidays there.
In general, it seems like a good idea to celebrate for any reason and to have any excuse to feel joyful, at peace and connect with our spirituality.
I wish everyone a very happy Diwali, Thanksgiving and any other occasion you choose to celebrate at this time.