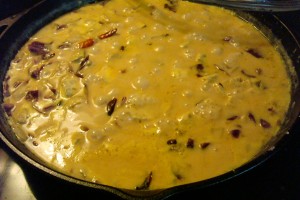 Kadhi or curried buttermilk is a popular side dish from India that can also be enjoyed as a soup. It is consumed by villagers and urbanites. Kadhi is great served over rice or khichdi (or khichadi) – a delicious and healthy porridge made from rice, lentils and vegetables. In this photo, red cabbage was incorporated.
There are delicious variations of this popular dish in various states of India. A popular style of making kadhi is from the state of Gujarat. Guajarathi kadhi is normally sweeter and thinner than other styles. Following is a recipe from All Recipes for this version:
Original Recipe Yield 4 servings
Ingredients
4 cups water
2 cups plain yogurt
2 tablespoons chickpea flour (besan)
4 green chile peppers, halved lengthwise
1 tablespoon minced fresh ginger root
1 tablespoon white sugar, or to taste
1/2 teaspoon ground turmeric
salt to taste
1 tablespoon vegetable oil
1 tablespoon ghee
2 dried red chile peppers, broken into pieces
1 sprig fresh curry leaves
1/2 teaspoon cumin seeds
1/2 teaspoon mustard seed
1 pinch asafoetida powder
1/4 cup chopped cilantro leaves
Directions
Mix the water, yogurt, and chickpea flour together in a large saucepan until smooth; add the green chile peppers, ginger, sugar, turmeric, and salt. Bring the mixture to a boil and then immediately reduce heat to low; cook on low 5 to 10 minutes.
Heat the oil and ghee together in a small skillet over medium heat; fry the dried red chile peppers, curry leaves, cumin seeds, mustard seed, and asafoetida powder in the the mixture until the seeds splutter. Stir the mixture into the saucepan with the cilantro. Serve hot.
Nutritional Information
Amount Per Serving Calories: 185 | Total Fat: 9.1g | Cholesterol: 16mg